Early Magazine Articles on TV and Color TV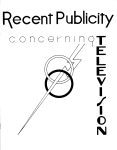 Recent Publicity Concerning Television
(newspaper and magazine clips from the 1930s)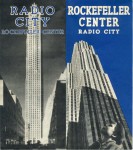 Rockefeller Center tour flyer with TV demo insert -
probably ca.1938
( 3.61 MB pdf file)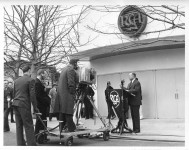 Publicity photo of David Sarnoff
before TV camera at RCA Pavilion (jpg)
Back side of the picture (jpg)

RCA ad in LIFE magazine
March 18, 1946
TV available soon
(324 kB pdf)

June 1946 Popular Science
Television Reaches Out
April 1947 report on French experiments with 1000-line TV



January 1950 Popular Mehanics:
Rainbow on the TV Screen
Custom Built Projection TV is Still Profitable
RCA's New Direct-view Tri-Color Kinescopes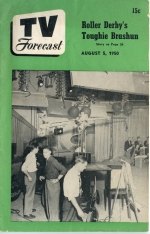 August 5 1950 TV Forecast
Chicago plus Milwaukee and even Grand Rapids
with an amazing mix of articles
(2.5 MB pdf file)
Big Pictures on Color TV Made Possible by Drum Filter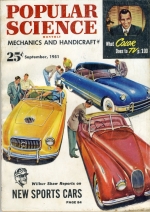 September 1951 Popular Science
Including:
"What Color Does to TV" (RCA still testing despite CBS win at FCC)
and
"TV Color 'Sampler' Costs only $8" (DIY CBS color adapter)
[1.5 MB pdf file]

December 1951 Popular Mechanics
Let's Send TV Around the World -

December 1951 Popular Science
Here Comes TV for Everybody
[UHF expansion]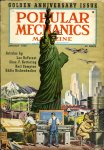 January 1952 Popular Mechanics

March 1953 Popular Mechanics
Including:
What's Ahead in TV (Allen Du Mont)
Transistors - "not expected to supplant the electron tube"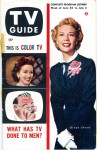 TV Guide 26 June 1953
"This is Color TV"

January 1954 Popular Mechanics:
Color TV is Here

April 2 1954 RCA Ad in US News and World Report
"rainbow you can see in black and white"
Announcing Compatible Color TV
(304 kb pdf file)

TV Guide 2 April 1954
First Color Commercial
TV's Only Silent Star
(Marie McNamara, RCA's auburn-haired "Miss Color TV")
Article from the Detroit Times
Sunday Pictorial Review
18 April 1954
(192 kb pdf)

July 1954 Popular Science
ABC's of Color Television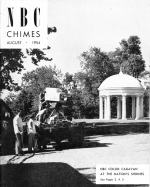 NBC Chimes (house organ)
August 1954 Articles
Color Caravan remote broadcast series;
Three "Spectacular" Series sold out
[3.3 MB pdf file]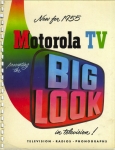 Motorola New for 1955
Color TV, B&W, HIFI/Phono, Radio
[36 MB pdf file, 94 pages]



January 1955 Popular Mechanics
How to Operate Your New Color-TV Receiver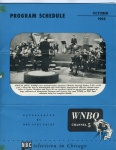 October 1955 WNBQ TV Program Schedule
Showing available commercial spots (1.5 MB pdf file)


RCA 1955-56 Color TV Sales Promo Booklet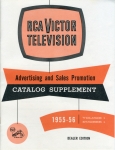 RCA Victor TV 1955-56 Advertising and Sales Promotion
Catalog Supplement Vol. 1 No. 1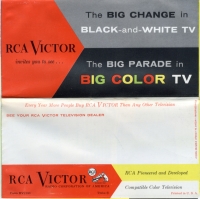 1955-56 RCA TV Brochure with Black and White
and New Big Color TV (CTC-4 Chassis)
(585kB pdf file)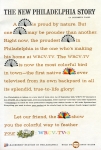 WRCV Philadelphia going COLOR in 1956
(259 kB pdf file)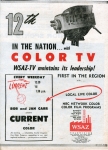 WSAZ Charleston WV going COLOR in 1956
(367 kB pdf file)

January 1956 Popular Electronics:
Assembling the Image Orthicon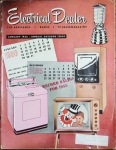 Electrical Dealer Magazine
January 1956 (38MB pdf file)
Chicago/Milwaukee/South Bend Listings
Full issue (4.2 MB)
2 Weeks after WNBQ went all-color for local live programs

Handy Man's TV Repair (ca.1956)
RCA Automation for TV Stations
14-page brochure
(1.8 MB pdf file)




TV Roundup, supplement to
The Chicago American
03 Nov 1957, 12 Jan 1958, 19 Jan 1958

September 1959 Popular Electronics
Special Report on Color TV Today
The Magic of Cross-Country Communications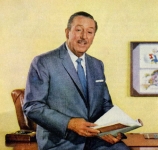 1961 Readers Digest ads for RCA Color featuring Walt Disney
1) Pre-debut of "Wonderful World of Color"
2) Post-debut of "Wonderful World of Color"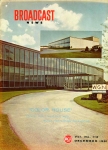 Broadcast News December 1961
WGN's new "Color House" studio
(8.9 MB pdf file)

Zenith Color TV Brochure 1963 models
(9.2 MB pdf file)

Zenith Color TV Brochure 1964 Models

December 1963 Radio Electronics
Color TV Today and Tomorrow
(2.1 MB pdf file)
December 1964 / January 1965
Radio-TV Experimenter
"Chromatron Comes to Color TV"
2.04 MB pdf file)

Sears Fall/Winter 1964 Catalog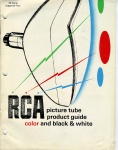 RCA Picture Tube Guide 1965
Last page lists RCA claimed color TV developments starting in 1930
YAOU Color Portable
has 7-1/2 inch screen, single-gun picture tube
RCA Ad Supplement
The Kansas City Star
November 21, 1965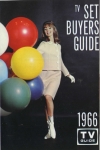 1966 TV Set Buyers Guide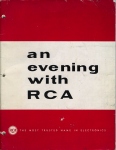 an evening with RCA
Service seminar, February 1966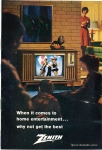 Zenith multi-page ad in Readers Digest 1966
(1.7 MB pdf file)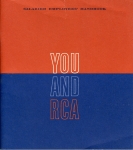 RCA Salaried Employees Handbook
"You and RCA" circa 1967(?)
(10.4 MB pdf file)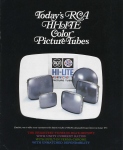 Todays' RCA HI-LITE Color Picture Tubes
August 1967 (3 MB pdf file)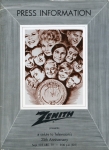 Zenith 1972 25th Anniversary of TV press kit
(2.7 MB pdf file)