MPEG 2 Prediction
This diagram shows the very basic aspects of prediction. It does not show motion compensation or the decoder that is in the encoder to produce the anchor pictures. The anchor pictures are previously encoded and decoded pictures that are available at the encoder because the encoder contains a decoder. See Encoder Configuration for an explanation of the need for decoding in the encoder.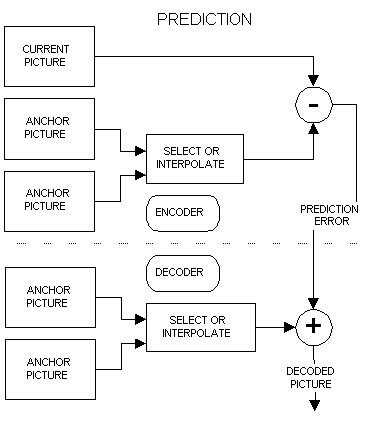 Backward prediction is done by storing pictures until the desired anchor picture is available before encoding the "current" (stored) frames.

The encoder can decide on a macroblock basis to use forward prediction from a previous picture, backward prediction from a following picture, or interpolated prediction to minimize prediction error.

The encoder must transmit pictures out of order (see I P B Picture Reordering ) so that the decoder has the anchor pictures before decoding predicted pictures.

The decoder must have two frame stores.
Compression Tools Topics:
MPEG 2 Prediction